June 23-25, 2023Big Sky, Montana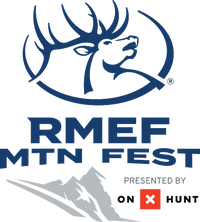 JOIN US OUTSIDE FOR MTN FEST AT BIG SKY RESORT IN BIG SKY, MONTANA. Held in conjunction with the Total Archery Challenge, MTN Fest includes outdoor industry vendors, special RMEF Raffles and Membership Offers, the World Elk Calling Championships and an After Party Saturday night featuring live entertainment and gourmet food from Chef Jaime Teigan.
Stepping Up for Elk Country After Party
SATURDAY, JUNE 24 Join RMEF for an evening celebrating elk country, hunting and good friends!
5:30 - 9:00 P.M.
Randy Newberg - Event Emcee
Live Auction, Silent Auction & Raffles
Live Music
Featuring a catered meal by well-known Western Big Game Chef Jaime Teigan
Randy Newberg - Emcee
Chef Jaime Teigan
World Elk Calling Championships

presented by Sportsman's Warehouse
Registration Is Open
One-Day Competition, Saturday, June 24, 2023
Who is the world's best? Contestants will try to out-bugle, out-bark, out-mew and out-chirp the competition to find out.
Compete in one of five divisions: Professional, Men's, Women's, Youth (11-17 years old) and Pee Wee (10 years old and under).
No entry fees and competition is open to any qualifying person.
Event Emcee - Kristy Titus
Black Rifle Coffee Company Total Archery Challenge Powered by PSE is coming to Big Sky and bringing you the greatest outdoor 3D archery experience in the nation. We work hard to provide a fun, family friendly environment where everyone can enjoy the great sport of archery. It's like we always say, "Life… Its Better with a Bow!"
Special thanks to our partners